Satellite attitude control design and reaction wheel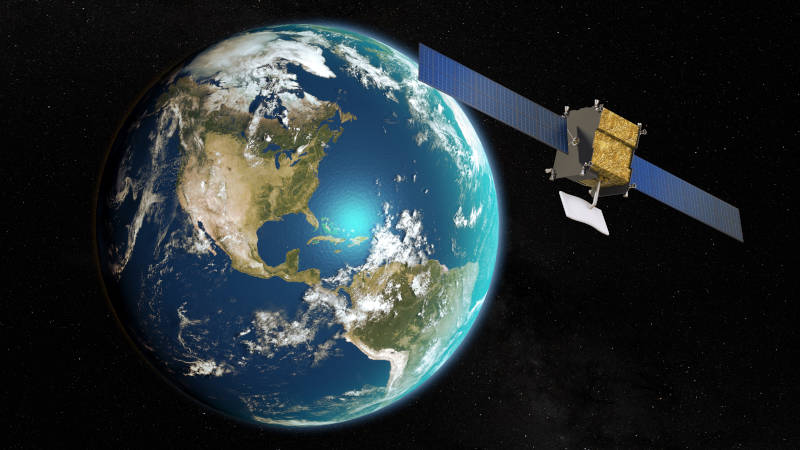 Importance of satellite attitude control and types of attitude control devices
Satellite attitude control plays an important role in satellite operations. For example, in the case of a communication satellite, precise control of the antenna orientation can improve communication quality. In the case of an earth observation satellite, precise control of the camera orientation can obtain Earth observation data with high precision. In this way, satellites need precise attitude control to perform their role while orbiting the Earth. However, as they orbit the Earth, various forces even though may seem small, such as radiation pressure from the sun and friction or drag with the atmosphere, create a bias against the center of gravity, which in turn causes the vehicle to rotate. These forces are referred to as disturbance forces.
Thus, satellite attitude control is an important factor in the design and operation of satellites, and many technical challenges exist. Satellite engineers must consider how accurately an antenna or camera can be aimed in the desired direction and time combined with limited space, weight and energy a satellite design has available to determine how best to manage the risk of failure. To overcome these challenges, various Guidance, Navigation, and Controls (GNC) devices such as reaction wheels, magnetic torquers, thrusters, CMGs, sun sensors, gyroscopes, magnetometers , and star trackers can be combined to effectively perform attitude control.
Considerations in designing satellite attitude control with reaction wheels
The seemingly insignificant moments that rotate a satellite's body can be absorbed by the reaction wheel, thereby enabling satellite attitude control.
Changing the speed of revolutions, or revolutions per minute (RPM), of the reaction wheel absorbs those moments, but if moments accumulate in the same direction over a long period of time, the reaction wheel will eventually reach its limit and become "saturated" resulting in a loss of control of the satellite.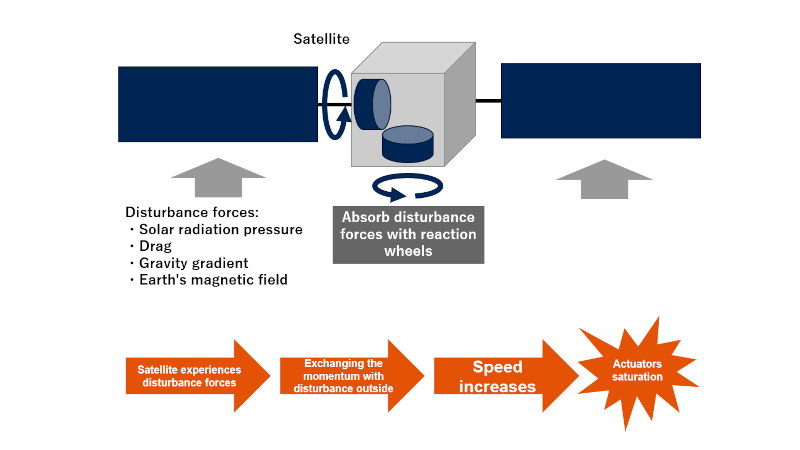 Types of disturbance forces received by a satellite and the process of absorption of moment and its saturation by reaction wheels
To eliminate the moment accumulated in the reaction wheel, an action called "unloading" is required to adjust the RPM of the reaction wheel. Specifically, the amount of momentum generated by reducing the RPM of the reaction wheel is absorbed by a magnetic torquer or thruster, and the attitude is adjusted so that it is not greatly disturbed, while the RPM of the reaction wheel is reduced to the target RPM.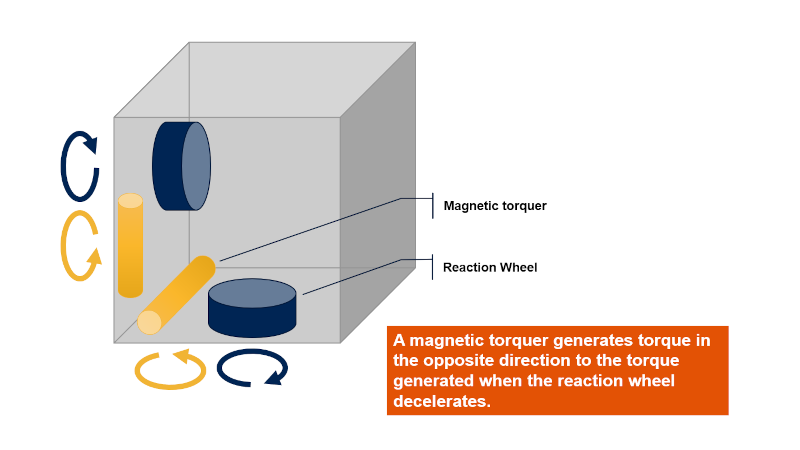 How to unload the reaction wheel
CubeSats are often equipped with magnetic torquers only, while MicroSats and MiniSat-sized satellites are often equipped with both magnetic torquers and thrusters. Thrusters can vary momentum significantly but don't provide fine control. Magnetic torquers, on the other hand, provide fine control but act much more slowly than thrusters. Also, during unloading, the accuracy of the satellite's attitude control decreases, making it difficult to perform functions such as observation and communication with precision. Therefore, it is necessary to calculate how often unloading needs to be performed, the amount of disturbance to the satellite, the amount of momentum the reaction wheel can accumulate, etc., and incorporate them into the mission schedule. Thus, unloading management is important in satellite attitude control using the reaction wheel.
In addition, when attitude control using the reaction wheel is performed, it is necessary to estimate by simulation how much disturbance the satellite will receive during operation in orbit and to select a reaction wheel with appropriate angular momentum based on the frequency of unloading and operation schedule.
Future of satellite attitude control technology
In the future, the development of more precise attitude control technology is expected to progress, and new attitude control technology is expected to be developed to cope with various roles of satellites. For example, research is being conducted on attitude control technology using artificial intelligence and attitude control technology using more precise sensors. Advances in these technologies are expected to enable more precise and efficient attitude control.
ASPINA is developing reaction wheels for small satellites/CubeSats
ASPINA is currently developing a reaction wheel to meet the needs of small satellites and CubeSats.
See the technical information page for details.
Contact us for more information
New inquiry

Prototype

Upgrade

Customization

Your spec

Literature

Support

Others