ASPINA to start mass production of high-performance low profile canned motor pump
Press release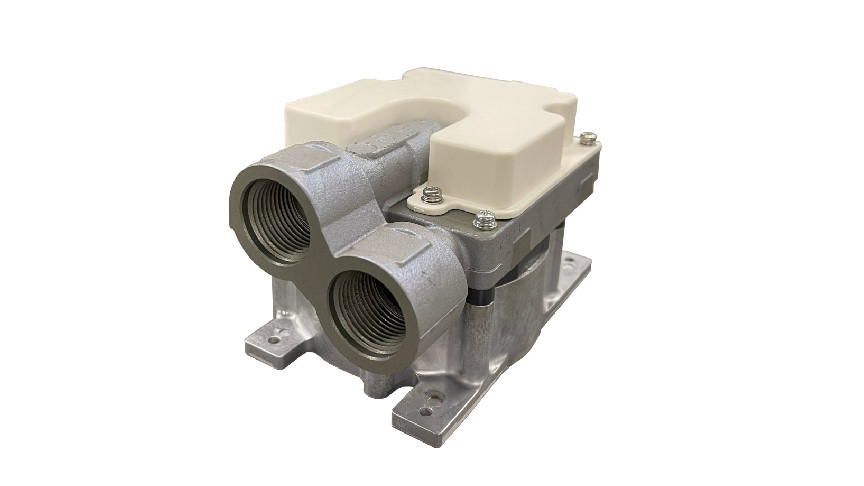 UEDA CITY, Japan, July. 12, 2022 -- ASPINA (Shinano Kenshi Co., Ltd., headquartered in Ueda City, Nagano Prefecture, Japan, hereinafter ASPINA) has developed a compact, lightweight, high-power, high-performance, low profile centrifugal canned motor pump that will start its mass production in August this year. This pump will be used in liquid cooling and circulating applications, such as server cooling units. We plan to produce 500+ units in the first year.
With the widespread use of 5G, the heat management of CPUs and GPUs has become an issue which the industry is tackling. ASPINA's high-performance low profile centrifugal canned motor pump aims to address this issue with its slim design and high performance characteristics offering our customers design flexibility.
ASPINA's pumps allow customers to have the advantage of space and weight reduction along with high-output flow control with our built-in drive circuit.
Naoto Tsuchiya, General Manager, Life Environment Business Unit of ASPINA commented: "In the field of fluid control using the pumps as well as gas control using the fan motors, we aim to create a new customer value for residential environments and expand new applications."
Compact, Lightweight, High Output
ASPINA's high-performance low profile canned motor pump has achieved a volume reduction of approximately 50% compared to DC canned motor pumps in the same output band. Size: height 94.5 mm x width 103.7 mm x depth 159.5 mm. Weight: 2.2 kg (including drive circuit). Maximum flow rate 50 L/min, maximum pump head 22 m. Seal less design is used to avoid any potential risks for leaks. The compact design helps to save the space and reduce the weight of embedded equipment. The 50% reduction in volume was achieved through the structural improvements, such as the orientation of the suction port and the position of the substrate.
Flow rate control
A drive circuit is installed into the pump's body, allowing to control flow rate easily from the external input signal.
Customization
The advantage of ASPINA pumps comes from the technology developed from our 60+ years of motor development experience. APSINA pumps can be customized with high output, small size, and light weight. It also has the features of long continuous drive, low noise, and low vibration.
Application
In the Japanese and overseas markets, APSINA pumps can be used in a wide range of equipment, such as server cooling units (CDUs), chillers (cooling water circulators), liquid cooling equipment and systems for inspection & medical treatment. It can also be utilized in industrial water treatment equipment that requires durability and miniaturization.
About ASPINA
Established in 1918, ASPINA develops and produces motors and modules in fields such as industrial equipment, home appliances, housing, automobiles, medical care, and welfare. We constantly refine our technology for realizing elements of compact, lightweight, and quiet. In addition to mastering the movement of goods, we work together with our partners to touch the hearts of our end users. Both sales staff and engineers take the initiative to talk to customers to solve problems and make proposals. Our slogan "Engineered to Inspire" incorporates our desire to use technology to create a new future for the world and to touch the hearts of people.